Here Lulu kidnaps young girls, so people wonder "where have our girls gone". This strange man replies 'they are not lost to everyone'.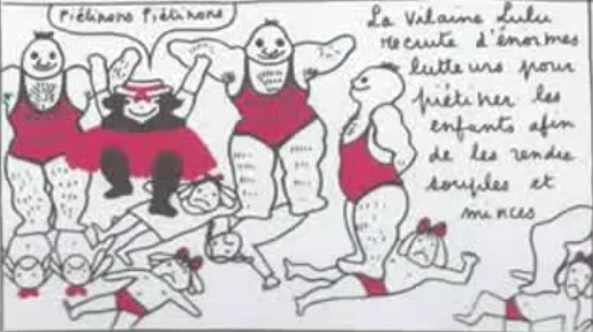 "Naughty Lulu recruits wrestlers to trample children to make them supple and thin"
Here Lulu sacrifices a woman for a handsome firefighter to fall in love with her
Sacrifices of children, babies and women take place in the name of Venus
"In addition, any resemblance to people who exist or have existed is perfectly intentional. All these adventures were taken from real events"
"Monsieur Tudor and Lulu prowl around the schools" Mister Totor said "the fat blonde would do"
Later, Lulu manages to become Pope after committing atrocities against Christians or becomes a nurse to be able to torture sick people and euthanize suffering people.